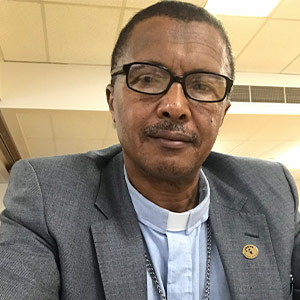 Reverend Adefris "Eddie" Mekasha
402-391-6148
Pastor Eddie Mekasha is a native of Addis Ababa, Ethiopia. He completed his college and seminary studies in Ethiopia majoring in theology and supplies management. Once in the United States, Pastor Eddie also earned a Masters of Divinity from Concordia Seminary in 2007 and has served as an ordained minister in the Lutheran Church-Missouri Synod ever since.
Pastor Eddie is married to Fantaye who has always supported the Pastor Eddie's evangelism and ministry as a caring co-worker. They are blessed by two daughters, Kedamawit and Simret.
Eddie was the editor of Amharic herald, an Ethiopian Christian newspaper. Eddie immigrated to America in July 2002, and arrived in Louisville, KY where he began his ministry here as an evangelist and Campus facilitator for immigrants and international college students. Eddie's family joined him in the US in 2007.
In August 2013, Eddie moved to Council Bluffs Iowa to be a Chaplain for Tyson Food, and has certifications in Clinical Pastoral Education, Mediation, and Addiction Counseling. In addition to his chaplaincy, Eddie has served the immigrant community here in Omaha and the surrounding area, joining the St. Mark Staff in early 2020 after serving at several other congregations in the area.